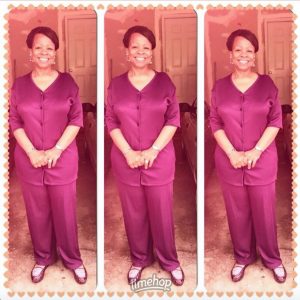 In lieu of flowers, join Terri's Angels and bless a caregiver currently dancing with a loved one through Alzheimer's or dementia.
Some of the biggest blessings that helped us care for my mama, Teresa Warren-Gardner, were the small, intentional acts of kindness: home-cooked meals & money for take out, items to help with fine motor skills, everyday home essentials, purple clothing (her favorite color!), and monetary donations to help pay for home healthcare services.
Without knowing, these "angel" blessings supported us at some of our most vulnerable moments. We made it because we had help! We made it, because people gifted us emotional, physical and financial support. My mom's husband and I were a dedicated and committed team with additional support to help respond creatively in our caregiving. Unfortunately, some caregivers are doing this love work solo, with less support and without the means to expose their loved one to a day club or a home health aide.
How Can I Help?
Join Terri's Angels by making a tax deductible donation. Your gift will go a long way in helping a caregiver who is seeking additional support in caring for their loved one. Too often, people say, "I don't know what I can do to help," while caregivers are saying, "I don't know what we need." From my experience, financial support (no matter the amount) always helps, because what caregivers are providing/doing daily adds up…from the basic daily living costs to costs directly associated with Alzheimer's/dementia (ie. Depends, wipes, medicine, Ensure, doctor visits, day club, home health aide, and more).
How Can I Donate?
Donations can be made to You Are Worthy Inc. (a 501(c)3 partner company) in one of 2 ways:
1. Use this Paypal Link
a. Click: Use this donation for "Terri's Angels"
b. If you want your name included in a public list of Terri's Angels, write ADD MY NAME ____ in the note section.
2. Write and mail a check to the office:
You Are Worthy Inc.
Attention: Terri's Angels
4125 Humphrey St.
St. Louis, MO 63116.
If you or your company are interested in matching the funds raised, please email Dr. April Warren-Grice at Terris.Angels@YouAreWorthyInc.Org. A quarterly report will be provided discussing the funds raised and the number of families we are able to help.
No amount is too small. Blessings come in all sizes