Pariah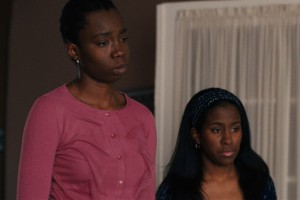 Saint Louis finally got the movie… a couple of friends and I went on opening day… Not many people were there, I'll say a good 20 people…… that's pushing it. Of course there were more white people than African American… this is a movie that I feel everyone should see no matter your sexual orientation, however, I do feel that anyone who identifies as LGBTQIA needs to see it more than others….These words are my opinions, please go watch the movie for yourself to get a better understanding.
http://focusfeatures.com/pariah/photos
Alike–played by Adepero Oduye, a young African American woman, senior year of high school, and apart of a family that is full of silent dysfunction.
Which starts with her parents.
Mother Audrey—played by Kim Wayans is overbearing and controlling.
Father Arthur—played by Charles Parnell non-existent because he does not want to be with mother. He's a police officer and uses that to his advantage, and is never home.
Alike's younger sister Sharonda—played by Sahra Melesse is the "prodigal" child according to her mother.. she happens to love being a "girl" …
Alike is identifying to be more masculine.
Alikes close friend, Laura—played by Pernell Walker a stud… who is in love with Alike but refuses to tell her (I was able to sense some liking from the first interaction).
Alike's mother Audrey does not like Laura because she feels that she is influencing her in a negative way.  Audrey is odd, she has issues communicating, in a scene while she was at work on lunch, she is very uncomfortable being around people.  I believe it's because of low and lack of self-esteem that she never handled from the past, plus having to deal with her husband cheating but not wanting to divorce, add that with her two children being aggravated with her.
Alike mother forces her to become friends with one of her co-workers daughter Bina—played by Aasha Davis, Audrey thinks Bina will have a "positive" influence on Alike… Bina however, is a wild child.  So much so that Bina ends up being Alike's first and breaking her heart, because she just wanted to chill and have sex.  Even though Alike's feelings were hurt, that moment was all of the confirmation that she needed.  She knew from that first kiss that the feelings she'd been having were indeed real.
Alike acknowledged that she was a lesbian.  She found her voice.
Her mother proceeds to beat her, Alike packs up some clothes and goes to stay with Laura.  Audrey goes on with life as if nothing happened and the next scene while they are eating dinner Sharonda mentions to her father that he needs to go find Alike.  Alike finds out that she can graduate high school early, and asks her father to sign the paperwork.  Alike goes to her mother's job to tell her she loved her and to let her know of her plans, Audrey acts as if she is not there, and tells her she will pray for her then walks away.  Alike moves across country to attend a prestigious college writing program..
This film hits on many issues in the African American family..acting as if everything is alright when deep down you know it's not. Numerous stereotypes are throughout this movie. Some of the stereotypes maybe true for some, but false for others. The point is light being shown on the issues in our families. Homosexuality is not a disease and I do not feel that it is wrong.  God made me and I know for a fact that he did not make any mistakes when he designed me. I know that the family issues when it comes to acknowledging your child is "different" and not going the way you want them to go are in my family. I have talked openly about how my family has responded to me coming out, although I have not been disowned, they have moments when the words they let come out of their mouth equate to diarrhea.  I have no control over that so I continue to live my life.. As it would be pleasing to God, not man.
Website link:  http://focusfeatures.com/pariah
---
---